Changing Places
---
What is a Changing Place?
Changing Places are a locked facility that provides more space than a normal accessible toilet, to allow adequate room for the additional equipment required, as below, and carers to be present to aid the user.
Who should use this facility?
Severely disabled people, including those with profound and multiple learning disabilities have access to these facilities to meet their needs.
Where will you find the facility?
The Changing Places facility is located land-side in the arrivals concourse.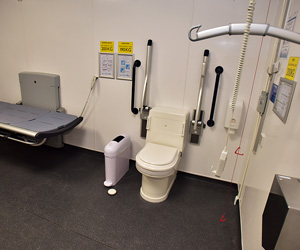 What equipment is provided?
Overhead full room coverage hoist system
Mobile hydraulic height adjustable changing bench
Wide tear off paper dispenser
Privacy screen
Peninsular conventional close coupled WC with grab rails and support arms
Electrical height adjustable sink
Booking Process
Please contact our Special Assistance team on 01275 473403, who will inform you of the pin code to use the facility on your departure/arrival date. Please inform us of your travel departure date and flight time.
You can also turn up on the day and use the facility, by either attending the Special Assistance desk situated in the arrivals concourse, or simply by calling the number identified within the booking process. A member of our team will be happy to help.
Important reminder to users
This is an unmanned facility and users must satisfy themselves as to its suitability prior to use.  Remember it is the responsibility of the user and/or the carers to facilitate the use of the facility and its equipment.
Please leave the room as you would like to find it.  If the room requires attention please use the courtesy phone to inform us.