Check-in
---
Check your passport and travel documents before you travel
How much time you need on your passport depends on the country you're visiting. Check the Government travel advice for the country you want to travel to and read the entry requirements section.  If your passport does not have the required amount of validity, the airlines will not allow you to board your plane.
When to arrive:
We recommend you arrive at least two hours ahead of the scheduled time of departure and allow plenty of time for traffic, parking and security search.  We endeavour to make your journey through the airport as quick and efficient as possible, but this may take longer when flying at the busiest time, between 04:00 and 07:30. Do remember, it's your responsibility to arrive on time.
Online check-in:
Most airlines offer online check-in and bag drop facilities. Your flight confirmation email will give details on what to do. Ryanair operates online check-in only.
Check-in desks:
On arrival at the airport check the information screens for the correct check-in desk. Once checked-in we recommend you go straight to security as most of our restaurants, bars and shops are situated after this point.
If you have checked-in online, have a printed boarding card and do not have any luggage to check-in, you can proceed straight to security.
Self-service bag drop:
easyJet, Ryanair, TUI and Jet2.com all operate self-service bag drop and have their own kiosks in the terminal. Customer hosts are on hand to offer guidance and assistance to passengers.  Remember every airline is different so don't forget to check specific information directly with them.
Items you may wish to check:
Sports equipment
Bag weight allowance
Priority check-ins
Additional charges
Pre-booking a seat or sitting together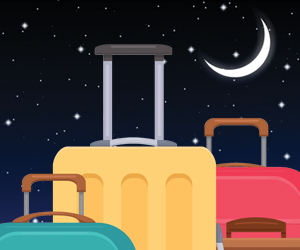 Twilight Bag Drop
If you have an early morning flight you can drop off your Jet2.com, Jet2holidays, easyJet and TUI hold bags the evening before and save time the next day! Park in the short stay car park during twilight check-in and your airline handling agent will give advice on exiting the car park.
Please check bag drop times direct with your airline and remember to bring your passport and boarding passes with you.