Security search
---
Know the rules to help speed you through Security search
We're committed to processing passengers as quickly as possible. Please give yourself additional time for security processing, particularly during peak times and remember to check your hand luggage beforehand.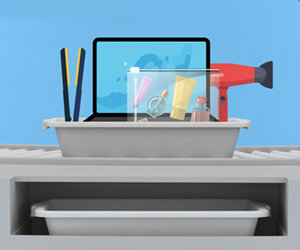 Be security ready:
All cabin baggage will be X-ray screened.
Place laptops and electrical items, such as hairdryers, separately in a tray.
Put coins, keys, mobile phones and other small items in hand baggage.
Place your hand baggage and coat into a tray.
We may ask you to take off shoes and belts.
Place any liquid items, correctly bagged, into the tray.
Pushchairs are subject to hand search and walking aids will be X-ray screened.
Wheelchairs will be thoroughly searched.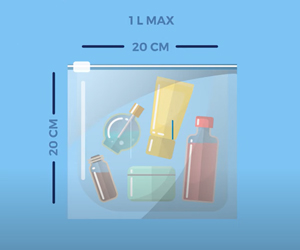 Taking liquids through security:
There's a 100 ml max rule for each liquid you take in your hand luggage.
Place all your 100 ml containers in a single, transparent, reusable plastic bag and keep this separate from your hand luggage.
Your clear bag should be no bigger than 20 cm by 20 cm and hold a maximum of 1 litre's worth of liquids - you can pick one up at the security search area.
Bear in mind that all gels, pastes, lotions, liquid-solid mixtures (including food) and pressurised containers also count as liquids.
You're allowed to take the medicines with you that you need to sustain you for your flight, plus a reasonable amount to cover any delays.

Baggage rules vary between airlines and we recommend checking before arriving at the airport.
Frequently asked questions