How to book special assistance
---
Assistance should be booked in advance with your airline or travel agent. This is so we have the right help and equipment ready for you.
If you have not pre-registered your need for assistance with your airline 48 hours in advance, you may have to wait some time for assistance as priority is always given to those passengers who we are expecting. If you arrive within one hour of your flight, we cannot guarantee you being afforded assistance to reach the aircraft, and you may be unable to travel.
Please follow these simple steps:
At the time of booking your flight or at least 48 hours in advance of travelling, please contact your airline directly or via your travel agent to book assistance.


You should also tell your airline if you intend to take your own mobility aid such as wheelchair or scooter.  Please provide details of the mobility scooter and how to isolate the power.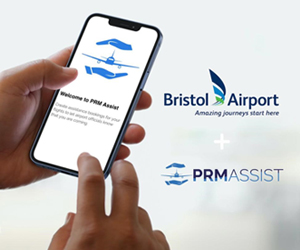 PRM Assist Mobile App
In addition to requesting your assistance through your airline directly, you can also pre-book at Bristol Airport through the PRM Assist Mobile app. This assistance booking will be passed on to our service provider OCS who will assist you through Bristol Airport.
To download the App, search PRM Assist on the Apple App store and Google Play Store.
Our Service Provider
Under European legislation, your airline is responsible for providing assistance when you are on board the aircraft and we will help you while you are at the airport.
At Bristol Airport our service partner OCS Ltd deals with all requests for assistance. Their specialised team of staff will be on hand to meet you and to help you through the airport. Special assistance is available for all age groups, including young travellers.
Here's our service level agreement or what you should expect from us as a passenger with reduced mobility or a disability while you are at the airport.