Get on board
---
Amazing journeys start at Bristol, and we want all passengers to enjoy the best possible airport experience.
It is your responsibility to ensure that you behave in a way that is responsible, does not affect others, and is always in line with airport and airline regulations.
It is an offence to be disruptive on-board an aircraft and this imposes serious consequences including being off loaded, incurring a ban from the airline and/or the airport, a fine and even imprisonment.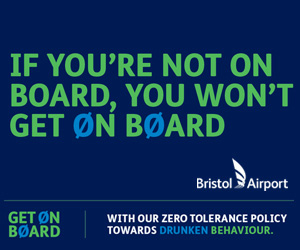 Disruptive behaviour could cost you:
Up to £80,000 diversion fee
Up to £5,000 fine
Up to 2 years in prison
Airline and airport ban
Your holiday
It is important that you respect and abide by our staff and their instructions. They are here to ensure you have a safe and enjoyable journey through the airport.  Any person who we deem to be disruptive or causing annoyance to any other person, will be requested to leave the airport under Byelaw 4.26 and 5.5.
We want your airport experience to be filled with positive memories, make sure you depart and arrive responsibly.
Thank you for getting on board with us.