Safe use of drones
---
The use of drones is becoming more widespread, therefore anyone who is using a drone recreationally or commercially must take responsibility for doing so safely and in accordance with the law. It is illegal to fly a drone within 5km of an airport and those who break the law will face major penalties.
Drone exclusion zone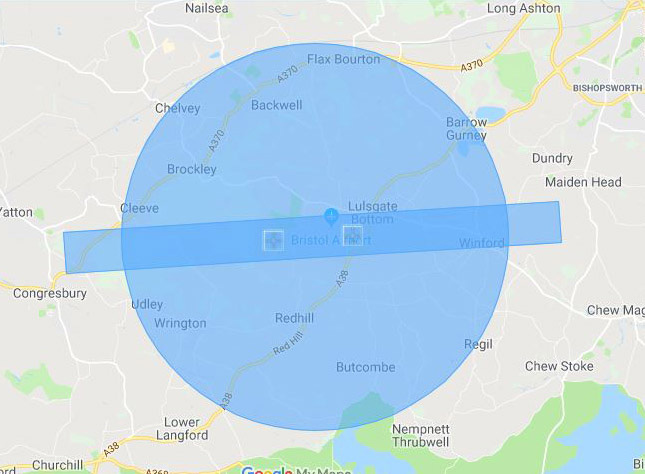 At Bristol Airport, we have state of the art drone detection technology and work closely with Avon & Somerset Police, government experts and the local community to ensure we have appropriate plans in place to deal with unauthorised drones that cause a threat to the safety of our operations. If you see a drone being operated above or around Bristol Airport, please contact the airport on 01275 473952.
How do I find out more information about flying drones?
Drone legislation is changing rapidly, so to access the most up to date information on drones visit the Civil Aviation Authority website.  From 30 November 2019, anyone responsible for a drone, an unmanned aircraft (including model aircraft) must register as a Pilot and complete an online educational pack. Both of these requirements are compulsory. Further information on the new regulations can be found here.
To help ensure you're flying your drone safely in the UK you can download Drone Assist, the drone safety app from NATS, the UK's main Air Traffic Control provider.

When you fly a drone in the UK, it is your responsibility to be aware of the rules that are in place to keep everyone safe.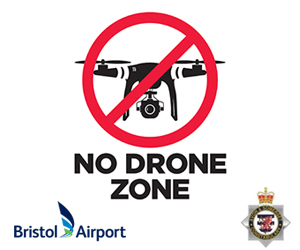 If you see it report it
If you see someone preparing to fly, or flying a drone report it immediately to: 
Bristol Airport: 01275 473952
Avon & Somerset Police: 101
Where is the drone?
Can you see the pilot?
Describe the drone/pilot
Where is it heading?
Anything attached?
When did you see it?