Carbon roadmap
---
Our roadmap to reduce emissions and become a net zero airport.
Climate change is the greatest challenge of our time. Keeping temperature change within 1.5 degrees by the end of the century will require significant changes to our society, including the way we travel.
At Bristol Airport we are responding to this challenge by reviewing every aspect of the way we do business. We have already taken steps towards a low carbon future, and our roadmap sets out in more detail how we will navigate the next steps of this journey.
Whether this is through direct action to introduce electric vehicles to our fleet or by harnessing solar energy to power our terminal, these measures are delivering results today.
But we accept that we need to show even more ambition to play our part in achieving the UK's target of 'net zero' by 2050. That is why we were among the first European airports to sign up to this commitment. 
By accepting this challenge and sharing our plans with the public we hope to demonstrate how continued access to the global connections which air travel brings need not be at the expense of our planet's future.
We are already making strides in reducing our direct emissions.  Bristol Airport had set a target of carbon neutral operations by 2025, but has achieved this target four years ahead of schedule.  It is a major step forward in the Airport's next aim to achieve net zero operations by 2030, where emissions will be reduced as much as technology allows, with any small remainder being removed from the atmosphere.
Completely removing emissions from flights will take longer but we serve a region with a rich tradition in technological ingenuity. The latest generation of aircraft are already delivering significant reductions in emissions. Future advances in engine and aircraft design will make further gains in environmental performance.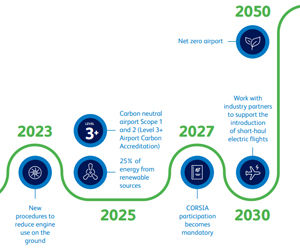 Our roadmap to reduce carbon emissions
Bristol Airport is in the process of developing a new sustainability strategy, which will be published later in 2023.
Our carbon roadmap from 2019 is available to view here.
Latest news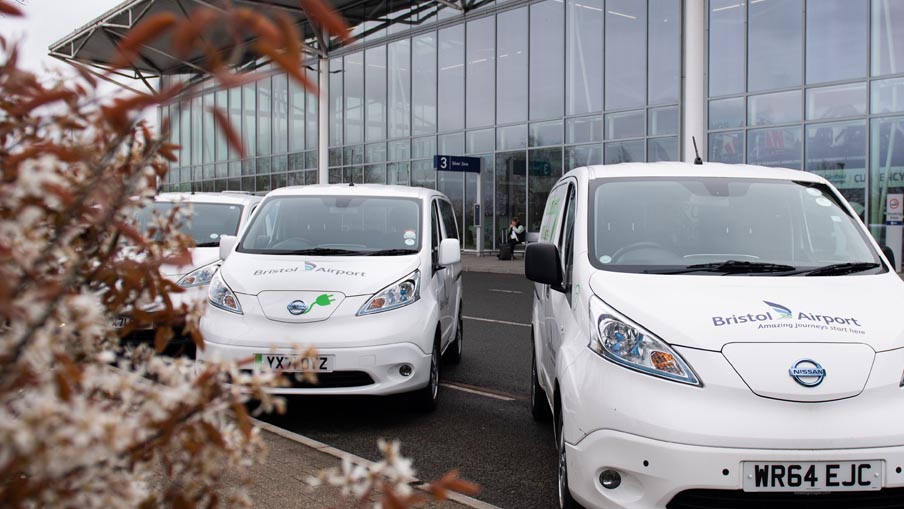 CARBON ROADMAP
Electric Vehicles
Bristol Airport invests in three additional electric Nissan e-NV200 vans.
Read more >